IIk Onkar
— 
"One with everything"
According to old yogic scriptures, everything in this Universe consists of vibration. Honouring the sense of hearing, the vibration of sound and manifest human creation, IIk Onkar is a gathering to tune in and ground our energy to the frequencies of the cosmos. Interstellarly curated by Akal Anand & Rubi, Ik Onkar brings together audio-visual performances, sound therapy, breathwork, yoga and meditation. This name is also a symbol which means "one with everything".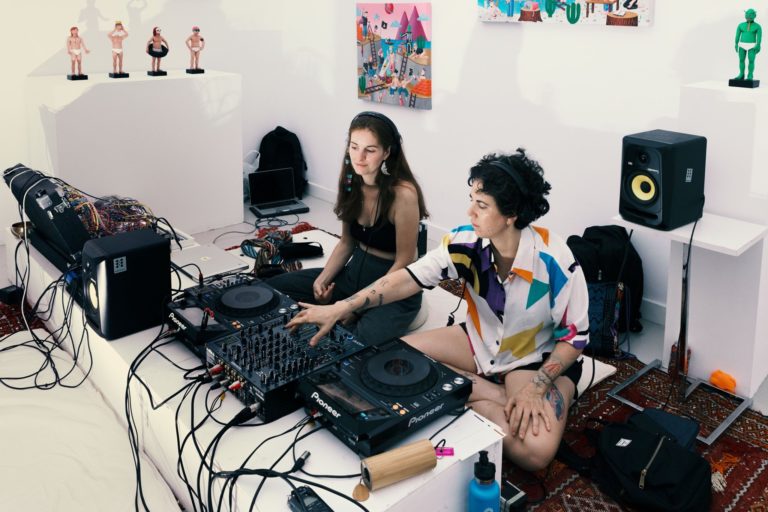 "Ik Onkar is your own intentional experience. It's an inquiry into sound art and its connection to your presence, your meditative mind cross into our imminent new earth. How you do one thing is how you do everything. Chose how you wish to direct your energy, awareness, and listening within the space. Experiment on how you can relate to these frequencies, and allow the cells in your body to adjust organically – no substances needed. Relate to sound with the curiosity of a new lover, feel through the energetics of it. Reinvent what being together means for you. Home is where you can be most present. We recommend you leave your phone in aeroplane mode."
AMBIENT       SOUND       DREAM       JOURNEY
The connection to the Cosmos, as envisioned by Akal Anand & Rubi, will come to Berlin's Michelberger Hotel this Friday the 9th of October. Hosted by Kundalini Yoga teacher Akal Anand, IIk Onkar #5 will feature a live modular-synthesiser performance by Gwenan, DJ performances from Ina Fm and Rubi ツ, and visual performances from Harriet Davey and Paulius Daunys – bridging the worlds of sound and aural enquiry with meditation and sound art.
Blending in breathing meditations, yoga Nidra, ambient electronic music and visuals. IIk Onkar is five hours of ambience and presence. Throughout the sound performances, the healing frequencies and subtle beats in combination will allow participants to enter a deep listening inquiry. The experience will end with a gong bath and guided meditation to individually and collectively integrate. We hope all participants are really able to relax into this space, where presence is genuinely possible.
IIK ONKAR #3 at Haymney Barcelona
Yoga nidra, the yoga of dreams, creates a space between the realm of dreams and awakening. Within this experience, the body is completely relaxed, and participants become increasingly aware of their inner world, floating in a universe of their own visualisations.
The experience will end with a gong bath and guided meditation to individually and collectively integrate, creating a space where presence is genuinely possible.
IIk Onkar #5 will happen from 18:30 to 23:30, in the Underlook Room of the Michel Berger Hotel. Space is unfortunately very limited. Please book your ticket in advance here.